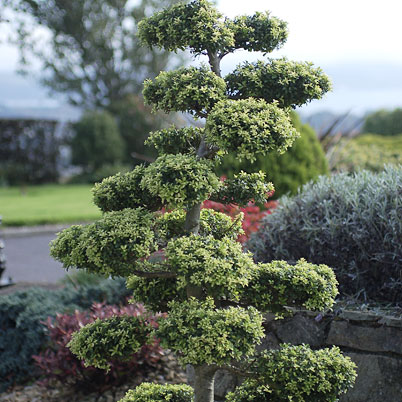 Botanical Name:
Ilex Crenata 'Kinme'
Plant Type:
Evergreen Shrub or small Tree
Origin:
Russia, Japan and Korea
Approximate Height:
1.5 - 5m (5-15ft +)
Approximate Spread:
1m max - 2.5m max (3.5-8ft)
Foliage:
Glossy, dark - green leaves / 2 - 3cm long
Positioning:
Full Sun / Partial Shade
Maintenance:
Trim lightly once a year in early summer
Pests & Diseases:
Trouble free
Soil Conditions:
Humus - rich, moist but well - drained soil
Hardiness:
Fully Hardy
Availability:
In Stock
Description
This is a beautiful dwarf Japanese Holly which is quite unlike any normal Holly and is sometimes mistaken for a Buxus form. It is very rare and very expensive and is for the serious plant collector.
It is a Bonsai form but is easy to grow and will grow virtually anywhere. This cloud pruned specimen will grace any Japanese/Oriental style garden or rockery.